Harry Potter and the Cursed Child || My Thoughts + BEWARE OF SPOILERS
WOW.
Okay.
There was a lot wrong with this book, but there were also things that I enjoyed. I don't even know where to start.
The Good
SCORPIUS. PRECIOUS HUMAN. Every interaction between him and Rose was my favorite thing in this universe (no, of course I'm not exaggerating. Don't be ridiculous).
I want to see more of Scorpius!! He was adorably kind, smart, and hilarious. He had a very well-rounded personality. Sure, he had a lot of problems, but he didn't let it all get the better of him. One of my favorite parts of his character was when
he pounced on Albus and said, "Listen up, you self-centered idiot, you're being a rubbish friend and human being." That was a moment when I truly got to see a raw glimpse of how much he had lived through and become a better person for it.
There were some lines here and there that made me grin because for a second, Ron, Harry, and Hermione were exactly how they should be. Then they would open their mouth again, which brings us to the bad.
The Bad
FROM PAGE 1 THE CHARACTERS WERE NOT RIGHT. It was as though someone had read the Cliffnotes version of the original series and picked out the most annoying parts of the original trio to focus on. Harry was not at all the snarky dork we love and remember, but he was a darker version (which in moderation, would have been positively brilliant, but it was all his character was) that was prone to angry outbursts at every moment.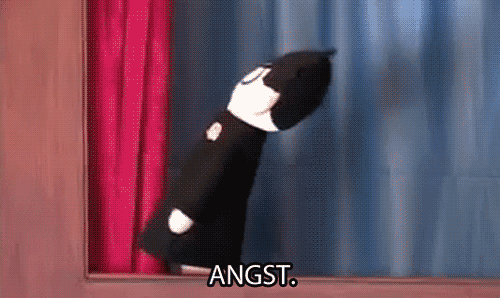 If his character had some lighter moments, it would have added gravity to the darker emotions he felt, but him being constantly upset, concerned, and angry cheapened it.
Hermione was bossy and hardly loving towards Ron. She lost all of her character development. Ron was the comic relief, but it came at odd times and was never actually funny. He had a few good lines, but then they were erased as soon as he cracked his next lame joke at an awkward moment.
A lot of the book was centered on growing up an orphan.
Harry faced it constantly and even challenged Dumbledore on why he subjected Harry to years of abuse and torment.
Delphi wanted more than anything to be loved and know her father.
Even Scorpius felt abandoned and alone from the rumors.
Honestly, all of this would have been brilliant,
in moderation!!!
But the theme of the book was forced upon us so strongly, I wasn't able to actually feel true sorrow for the characters. It was reminding us at every turn to pity them, so much so, that it pitied them for us, leaving us with nothing to do but watch emotionlessly.
The Moment That Made Me Mad
It was when Harry and the rest of them stayed to watch Lily and James be killed by Voldemort. It was when I read the line "No, please, don't take him. Don't take my son. I will do anything.".
This is Lily Potter.
This is LILY "take no tomfoolery from James" POTTER. She wouldn't beg. She stood and fought for her son. She didn't beg. That made me so upset because it took away from the sacrifice she made. She would never beg.
In the end, there was a lot that felt off to me. I am glad that I read it, but I definately can see why others dislike it so. I am going to accept it as something that exists, but nothing official because