The Tinsel Tag
Well, I thought I'd try my hand at creating a tag. I've always kind of wanted to start one, but knowing my luck, it'll probably go nowhere. We'll see how it goes.
Rules -
-Link back to the blogger who tagged you.
-Spread this tag like wildfire before December is over.
1. What's your favorite thing about Christmas?
My favorite thing about Christmas should be the family, the food, or even better, what it's all about. I'm going to be honest, I like all of that, but my favorite is this: The lights, the colors, and the snow. I love Christmas because of the atmosphere of peace and pretty lights. Maybe I'm shallow, but I think the idea of everyone decorating their lives for one huge special day just seems so wonderful to me, and I like presents, food, and the family.
2. Giving or getting presents?
Once again, I wish I could say giving. I wish that I could say that I would much rather bless someone than someone bless me...buuuuut, that being said, I love getting presents. It is my love language, and I like knowing that someone cares about me enough to get something for me.
3. Favorite Christmas movie?
ELF!
Without a doubt. This movie is a treasure. It's hilarious, and it doesn't feel like Christmas without watching it. I've seen it every Christmas since I was...little.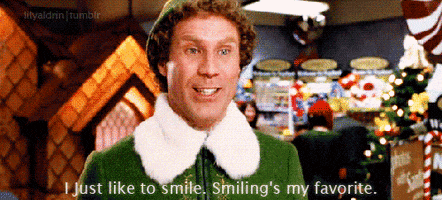 This movie is truly wonderful.
4. Favorite Christmas food?
"Candy, candy canes, candy corn, and syrup."- Elf
Anything peppermint. I am a huge fan of peppermint.
5. Ice skating or sledding?
Hm, I would have to say sledding. As fun as ice skating is, I hardly ever ice skate, and I feel nervous as a beaver in the desert when I do. I've heard the stories of the blade cutting into someone's leg when they fall just right, and I ain't about to risk that.
Sledding is classic. It's all about just having fun. I have a lot of good memories sledding with my family, plowing into blackberry bushes, and crashing into trees. Afterwards, we go into the house where it's warm and make hot cocoa, and I just really love sledding. Sledding all the way.
6. Decorating a tree or decorating cookies?
Hmm, when I'm decorating cookies, I can eat the cookies, and eating the tree is not advised. Then again, the tree ends up being a lot more permanent. I've sometimes gotten up in the middle of the night, sat in front of our tree, turned on the lights, and just stared at it. There's just something so peaceful about it.
8. What is your favorite Christmas memory?
Anytime there was snow. I love snow with all my heart, and I miss it so much.
9. Favorite Christmas song?
Feliz Navidad gets stuck in my head really easily, but my favorite Christmas song is....gosh, I can't pick one that I actually really like. Most traditional Christmas songs have been ruined for me by having to practice them over and over for Children's Choir (a long time ago

in a galaxy far,

far away

).
10. Hot Cocoa or Apple Cider?
Apple Cider all the way.
Apple cider is one of my favorite drinks ever. It's not as sickly sweet as hot chocolate can be, but it's still sweet. I love the almost caramelly flavor, too.
Please excuse the green highlight. My computer is going a bit out of control right now, so I'm just happy that it's even letting me post.
Christmas for life!! Or at least December.
Toodlepip