My Summer Reading List Pt. 2| I Am Psychic, Top 10 Tuesdays, and Fetching Stars
Would you look at that? I actually posted the second installment of my summer reading list within the same month! Who is this new me? Apparently this new me is psychic because I accidentally lined up with
Top Ten Tuesdays
category of "Summer Reads Freebie". Somebody buy me a crystal ball because I have found my calling.
You could gaze into the future...
Welcome to my impromptu Top 10 Tuesdays post.
"If Birds Fly Back"
Why It's Perfect For Summer
um
do you see that cover?
This is obvious.
Also it's about a girl who is fascinated with disappearances (and what better time to disappear than the summer? Sure, it's the height of tourist season in most places, but you just have to have the right guide books).
A nerdy boy might make an appearance, and we all know that nerdy boys migrate during the summer, usually in flocks of 15 (or am I thinking about birds?? You know, I am definitely thinking of birds, and not even getting all my facts straight).
There are (hopefully) birds, which are summer-y because how else would we be exposed to nature in the summer (pshh, we can't just leave our book-forts. Let's not be silly)?
There's a constellation on the cover which suggests STARS. I don't even have a way to connect this to summer, I just really like stars.
Why It's Perfect For Summer
Because what better time to be filled with a feminist rage and start a revolution?
I don't know about you, but I don't want the revolution to get in the way of my schoolwork, so I can gather an army over the summer, and then do biology during the fall!
Seriously though, I am very excited to read this, and excitement and summer go hand in hand.
Also, the character on the front looks like a superhero (which was the intended effect, so congrats to whoever drew it), and superheros prefer to work in the summer so they aren't chilly.
It talks about the history and future of feminism, so what I am hearing is that it will be like tIME TRAVEL??? I am 100% on board.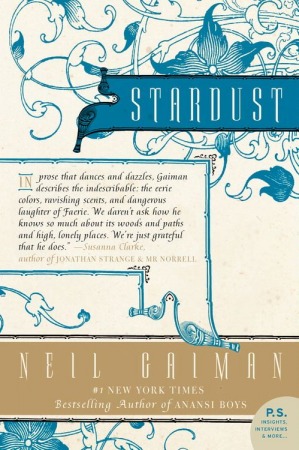 Why It's Perfect For Summer
There is a love struck young man who will do anything for his "one true love". Frankly he sounds a little delirious from the heat and should probably focus on something more important, like: school, or reading more books (the books will fix his delirium. Guaranteed).
He sets out on a journey (and we all know that journeys are best started in the summer) to fetch a star, which sounds marvelous.
I mean, how does one go about fetching a star?? Is there some sort of guide book? If so, I would like to read it please.
OH OH OH, so apparently there is a place called Faerie (you know, like Fairy, but it's with a cool spelling so you know it's legit), and nothing is as it seems. You know, that sounds like an awful lot like a summer I had back when I was a wee lass.
There are unexplored lands and mysterious walls, which are most enjoyable when viewed under the blazing hot glare of the summer sun.
Did I mention Neil Gaiman wrote it? So clearly it's going to be a masterpiece. And, Neil Gaiman is related to summer because...his birthday is in fall which is right next to summer (it works, okay? just don't think about it too much).
Why It's Perfect For Summer
The cover is green. The general color of summer is green. #twins
also there is a leaf on the cover.
It discusses what makes certain phrases or songs memorable

(some of which, I am sure, are summer hits??)

.
Supposedly it's funny, but we'll see about that. I am doubtful when books claim to be funny. If you're so funny, then why do you need to advertise it?
It's like if I was going around saying "I AM A LLAMA". If I am, then I don't need to say anything (if I was a llama, I doubt I could say anything, really), but if I'm not, then I just look ridiculous (then again, I would probably look ridiculous as a llama, so I have nothing to lose here).
I love learning new things about writing, and what better time to learn new things than summer??

Maybe fall

,

or spring,

or winter...
Lost boys.
Wendy-birds.
Vengeful, jealous fairies.
Boys who don't want to grow up.
Archery.
Nostalgia.
It is perfect. I am so excited to reread it.
and then rewatch all of the movie adaptations.
Guys, I have a problem. I am lowkey obsessed with Peter Pan.
This book is another "Summer in book form" read, and I, for one, am going to be gobbling it up.
Much like the crocodile. Speaking of which, I want to know more about the crocodile. Such as:
where did it come from?
where did it go (where'd it come from, Cotton Eye Joe)?
I look forward to reading all of these books and telling everyone about them because we all know I can't keep my opinions to myself (yes, I know it's true, Jerry, but you don't have to nod along). Happy summer, y'all! And I hope your summer is full of the best books (if it isn't, let me know. I have THOUSANDS a few I can recommend).
What's your favorite kind of book to read during summer?

Have you read any of these?

Have you read Peter Pan?

What do you think of it?

I personally have an unhealthy obsession, and am doing nothing to change that fact.

What's your favorite thing about summer?
Toodlepip