Why Fall is the Season to Rule Them All
Current mood: Donning cozy sweaters, and sipping pumpkin lattes, and making snow angels in piles of leaves.
I am embracing my inner white girl (as well as my outer white girl, because I'm literally a white girl) and welcoming fall with open arms. With it comes Halloween, Thanksgiving, and pumpkin spice EVERYTHING.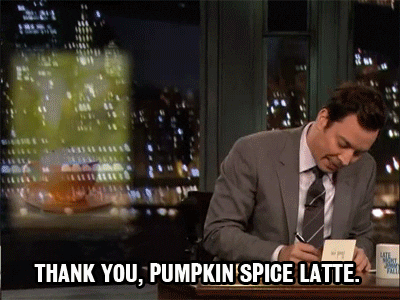 This is why we are going to all embrace our inner white girl and go on and on about AUTUMN.
Sidenote: I am proud of the fact that Americans call it Fall because LEAF FALL DOWN.
WHY FALL IS THE SEASON TO RULE THEM ALL.
(

until another season comes along and steals my heart

)
Reason1.
This is the only time of year that we can all let out our secret serial killer tendencies and let out a year of pent-up rage out on poor, unsuspecting pumpkins hiding in their little leafy beds. THEY WILL COWER IN FEAR BEFORE US.
They will never see us coming.
Reason2.
Everything becomes sweaters, and crocheted hats from Great Aunt Gertrude, and apple cider. The atmosphere of fall is so cozy and welcoming. It feels as though the world could be made better by just curling up with a cup of tea and gazing at the trees shedding their color. You had a bad day? Tea and look out the window. You accidentally started a world war? Tea and look out the window. You've just had your alter ego, Batman, discovered as being you? Tea and look out the window.
Reason3.
Everyone gets to create irrational ideas that they will end up at an orchard, picking apples with their closest friends, relatives, and estranged neighbors to make homemade apple sauce, cider, and pies. In reality, they will stay home in their sweatpants and fuzzy socks to watch someone else pick apples on TV. #seizethemoment
Reason4.
It's just so lovely!! There are colors falling from trees that one would only think existed in their wildest dreams. The air is crisp and cool and slightly musty, and it is the most wonderful air ever.
Reason5.
It is a very popular season for birthdays. In fact -- what a coincidence -- it's when my birthday is! I am in no way biased, but it is the most lovely season for birthdays to occur in. It's just close enough to Christmas to feel like there is a string of gifts, but not too close to the point where joint gifts are occuring. Everyone who has a brain can agree that receiving joint gifts is basically the same as going on a vacation to a shady alley with some mustachioed man named Julio who keeps pet goats. It's just disappointing.
Welcome, everyone, to Fall. It is technically unofficial, but it is official in my heart, and nobody is going to pop my happy little bubble, right? Fall is here!!
Toodlepip